Salt and Vinegar Wings Recipe
Ever had salt and vinegar wings? No? Well, it's right about time you try them out! I used to love salt and vinegar chips before going keto, so it's a taste I definitely miss.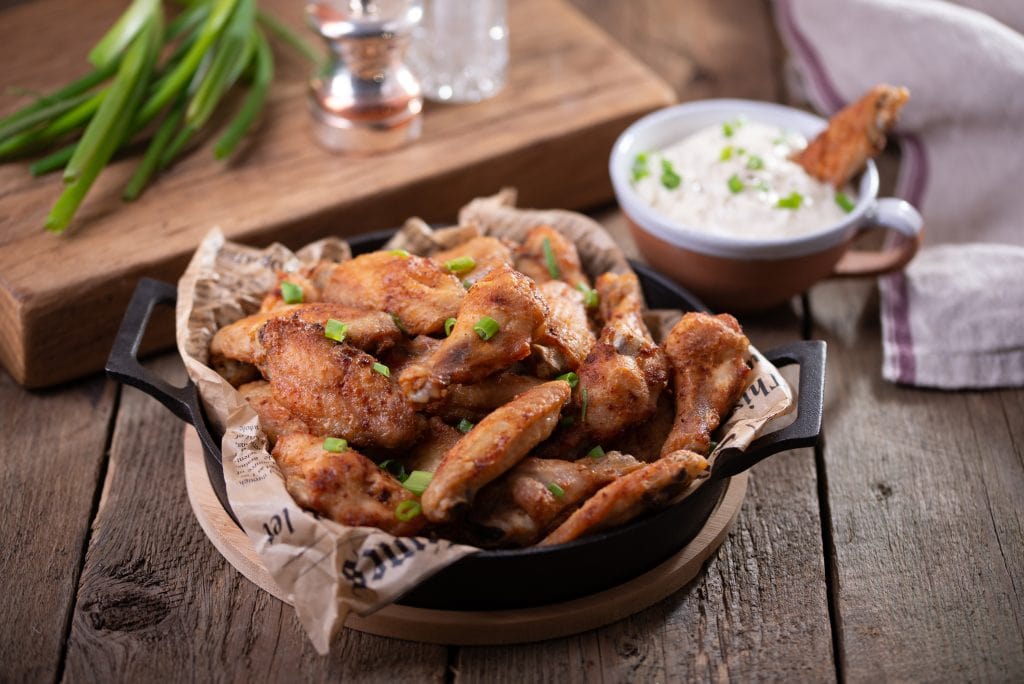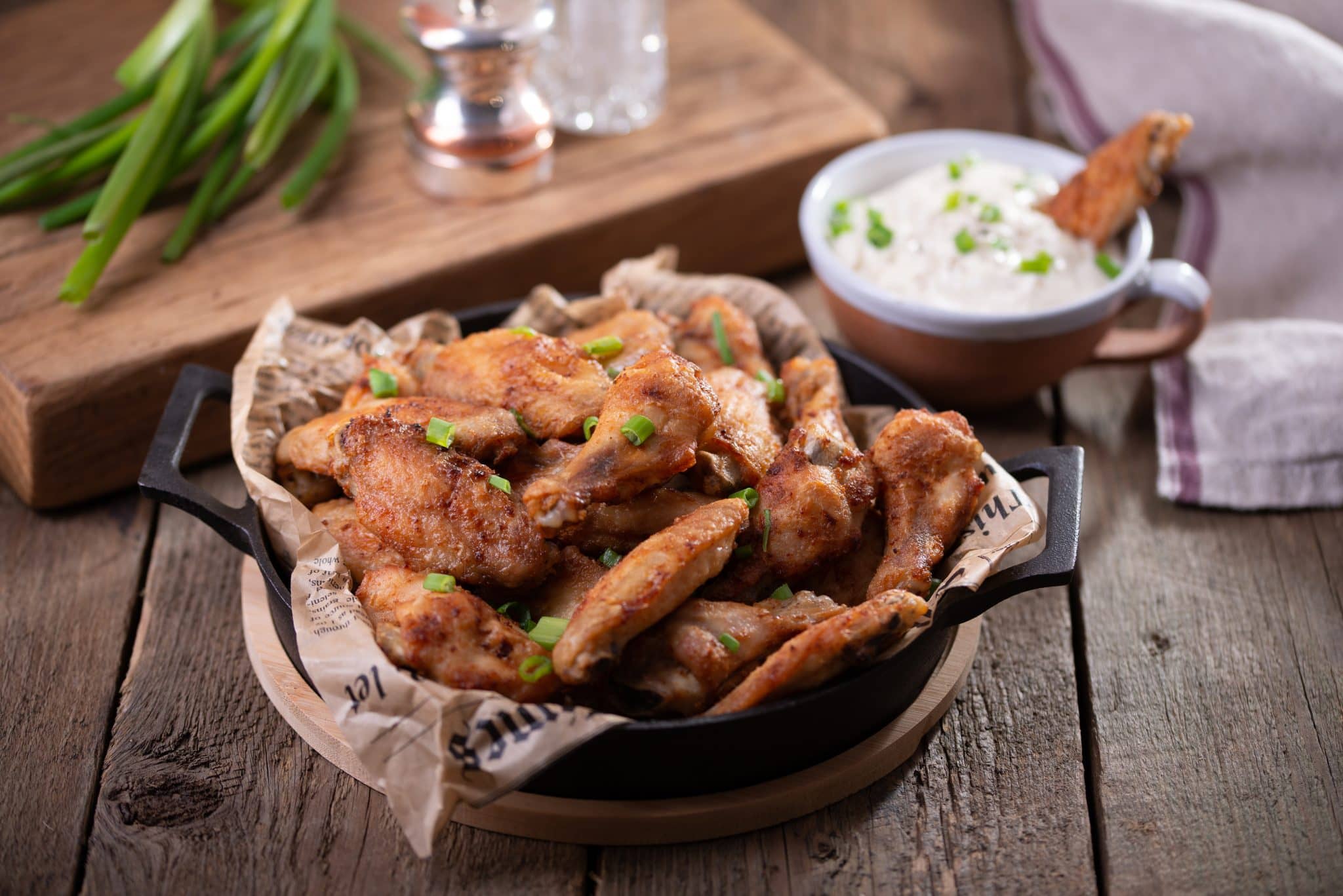 The other day we were talking at home about the salt and vinegar taste because Theo tried the popular potato chips and loved them, so naturally we started brainstorming and thought of making salt and vinegar wings. I know it's an acquired taste for some people, but the salt and vinegar combo is bomb in my opinion.
Since we were about to cook dinner, I just mixed around a few ingredients and thought I'd share this new recipe with all of you.
This chicken wing recipe is so delicious, tangy and flavorful at the same time, you'll make it over and over again. It's a really easy recipe to make too, so if you don't have time, don't like to clean up and just want to eat good but stay away from the kitchen – this one's for you!
How to make salt and vinegar chicken wings?
Making salt and vinegar chicken wings is as easy as it gets! You can read about the ingredients and how to prepare this great recipe down below.
Ingredients
All you need is six ingredients – chicken wings, OVO, vinegar, garlic and onion powder plus salt.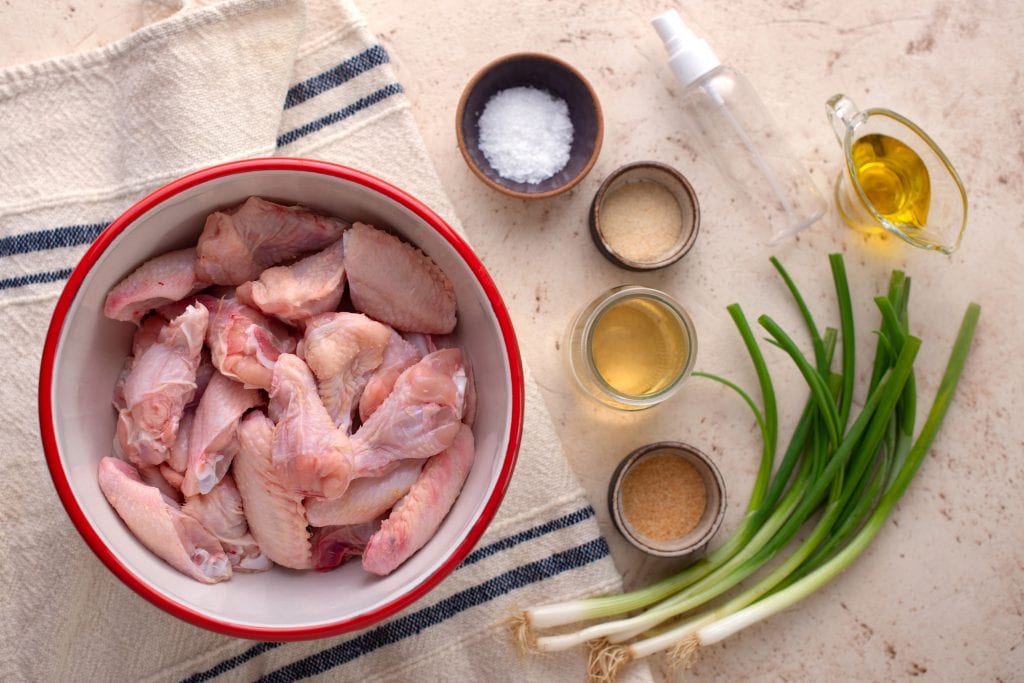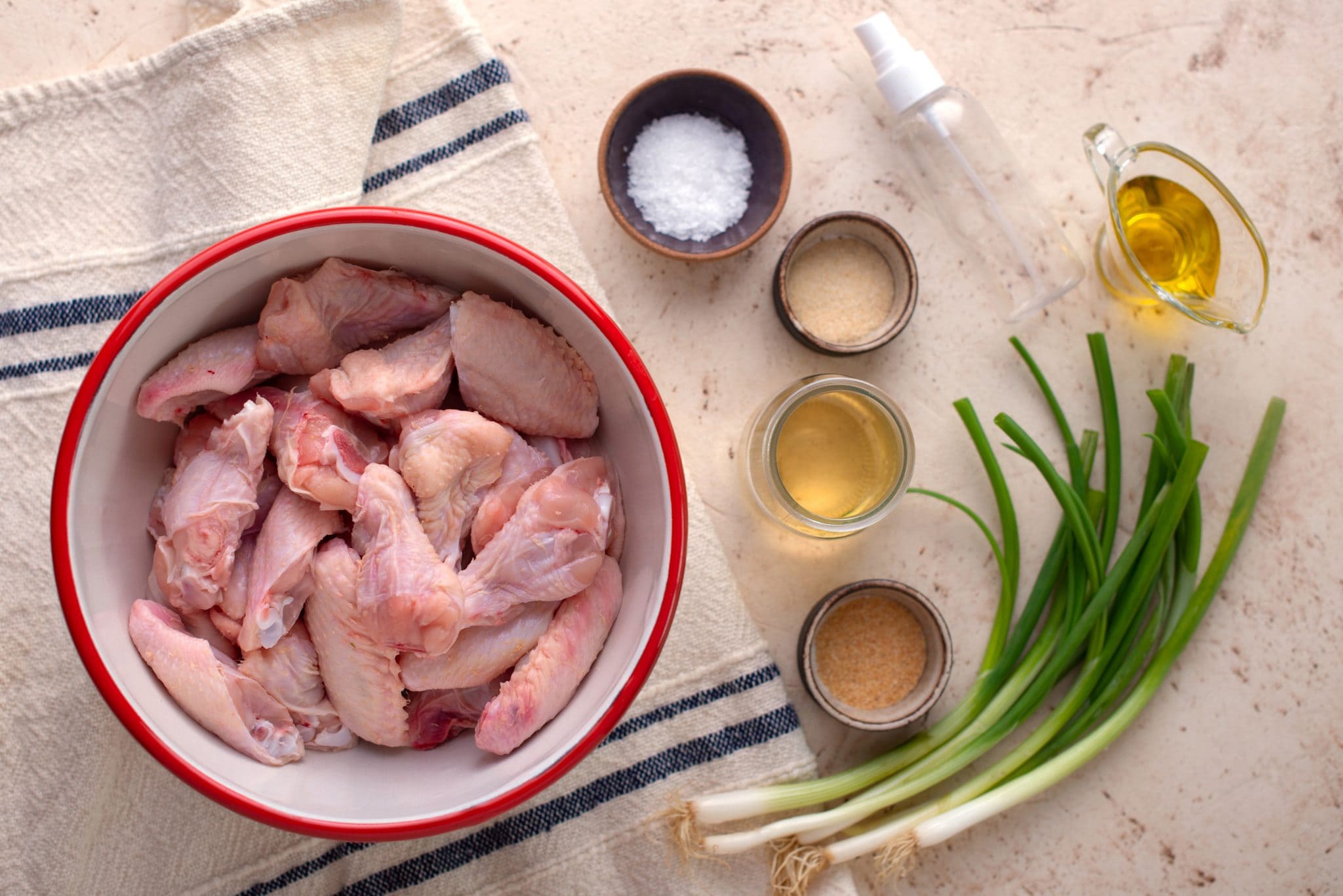 Chicken wings
A chicken wing is a chicken wing right? Well, not so much. I can taste the difference between non-organic and organic chicken wings. Always try to pick organic chicken wings to avoid hormones, which can lead to ovarian cysts and cholesterol issues.
Olive oil
We've used extra virgin olive oil for our chicken wing recipe, but you can use a healthy cooking spray as well. The key is to coat all the chicken wings evenly, so that the seasoning sticks to every corner of the wing.
Try to stay away from vegetable oil. Once heated, vegetable oil tends to oxidize which can lead to inflammation. Same goes for other oils such as corn oil etc.
Vinegar
I only had white vinegar so that's the type I used, but you can use just about any other vinegar here. However, don't use balsamic vinegar. It contains sugar!
Garlic powder
The holy grail of all holy grails when it comes to spices. Megha asked me one day if I had to choose one spice for the rest of my life, I told her it was garlic powder. Now that I think of it, garlic salt wouldn't be that bad either, but as long as it had garlic in it I'm all set.
I use Trader Joe's garlic powder, but again you can use any you'd like to. However, I do taste the difference between organic and non-organic spices, so you might want to grab the healthier version too for a better taste kick.
Onion powder
It's my favorite spice to use, right after salt and garlic powder. I highly recommend you use it to give your salt and vinegar chicken wings a flavorful kick.
Sometimes onion powders (just like garlic powders!) are mixed with kosher salt, so make sure you read the label first so you don't add more salt when to your salt and vinegar chicken wings when it's not needed.
Salt
I like using red himalayan salt on everything, so that's naturally what I used for this recipe as well. You're more than welcome to use almost any salt you want to, such as kosher salt or regular table salt.
I use red himalayan salt because it contains more minerals than any other kind. Also, I like the flavor of it just a tad bit more than regular salt since it's earthier and deeper.
Make it in 6 easy steps
Step 1 – CUT AND BREAK DOWN CHICKEN WINGS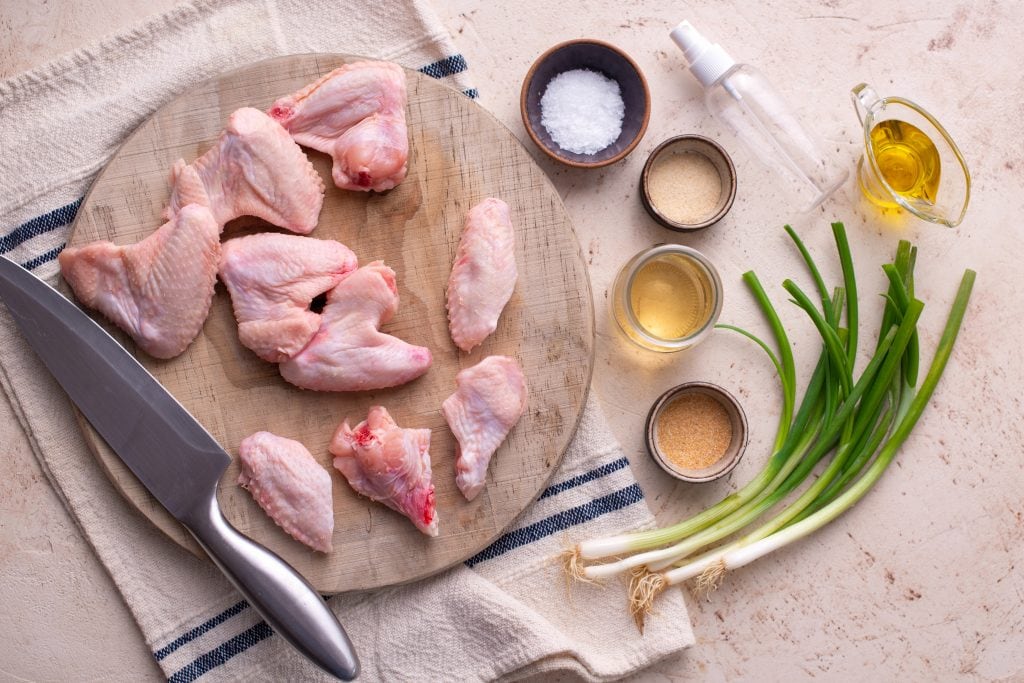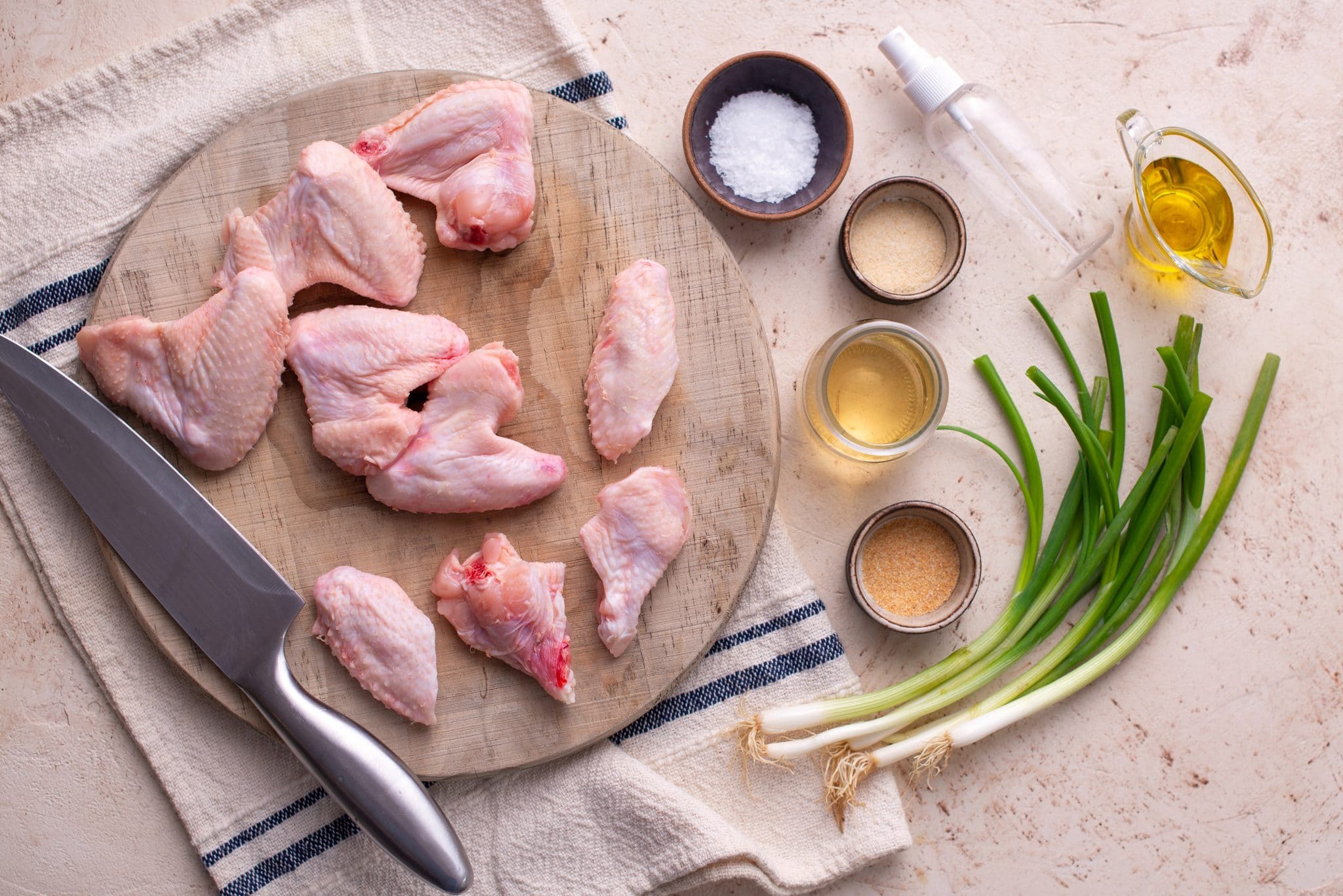 You can skip this step, but I recommend you check out this blog post on how to cut chicken wings. It's not as hard as it seems, plus you'll be able to eat them easily later on.
Also, don't forget to preheat your oven to 400 degrees too. I like to line my baking sheet with aluminum foil so it's easier to clean up all the grease from chicken wings later.
Step 2 – PLACE IN A LARGE BOWL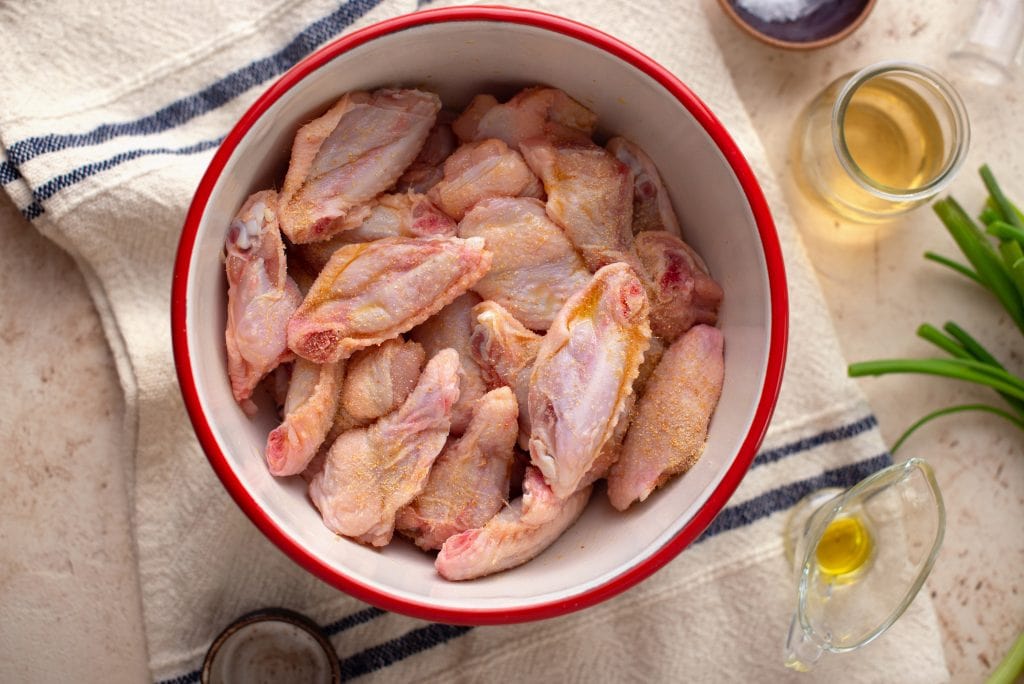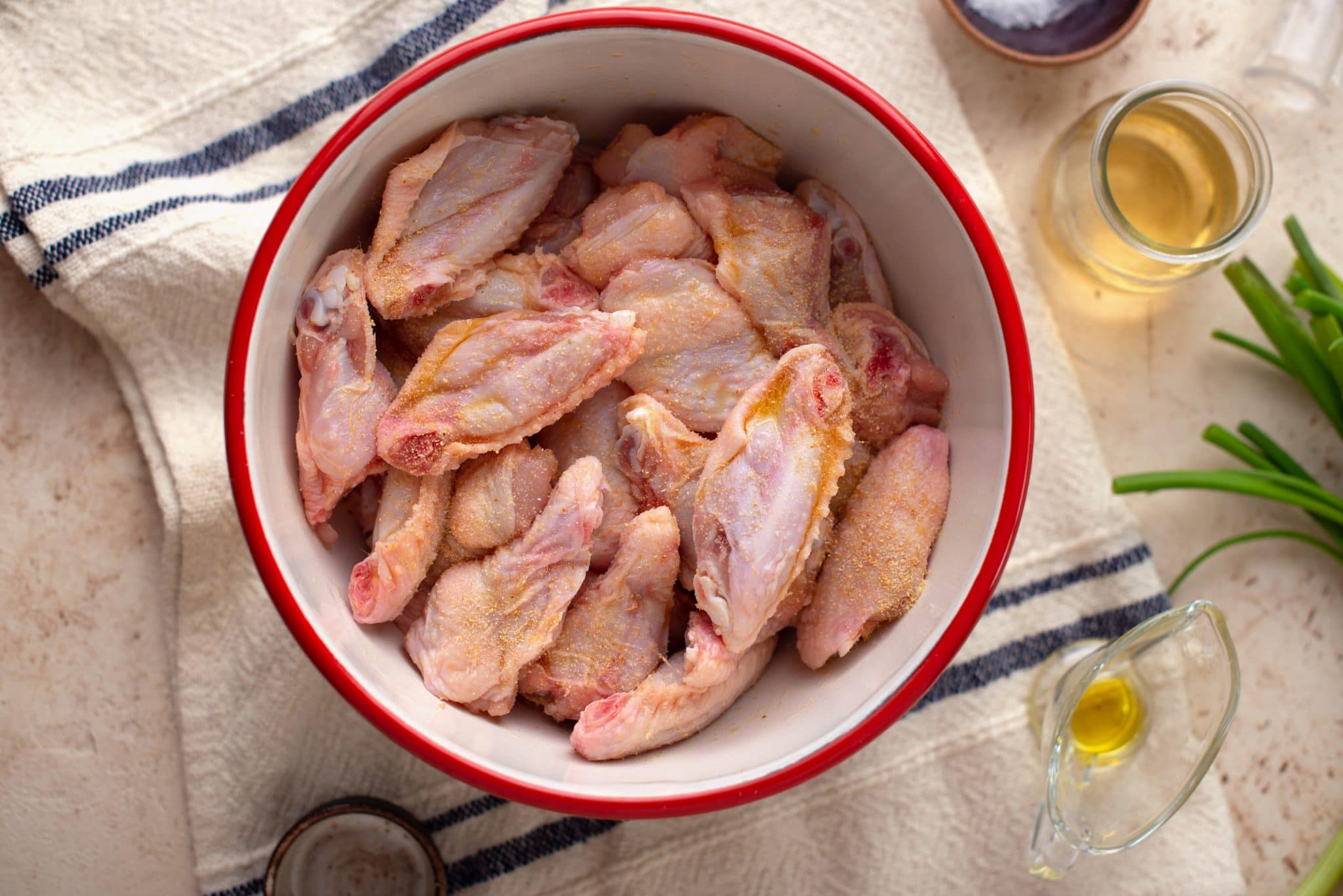 Make sure to get a large mixing bowl, pat dry the wings with paper towel to make sure they end up with a crispy skin and drizzle your chicken wings with olive oil.
Step 3 – SEASON GENEROUSLY
Season your chicken wings with a mixture of garlic powder, onion powder and salt. I like using smoked garlic powder sometimes, if you can find it when making these it will only take your chicken wings to the next level.
Make sure you coat each wing with this mixture, evenly.
Step 4 – TRANSFER TO A WIRE RACK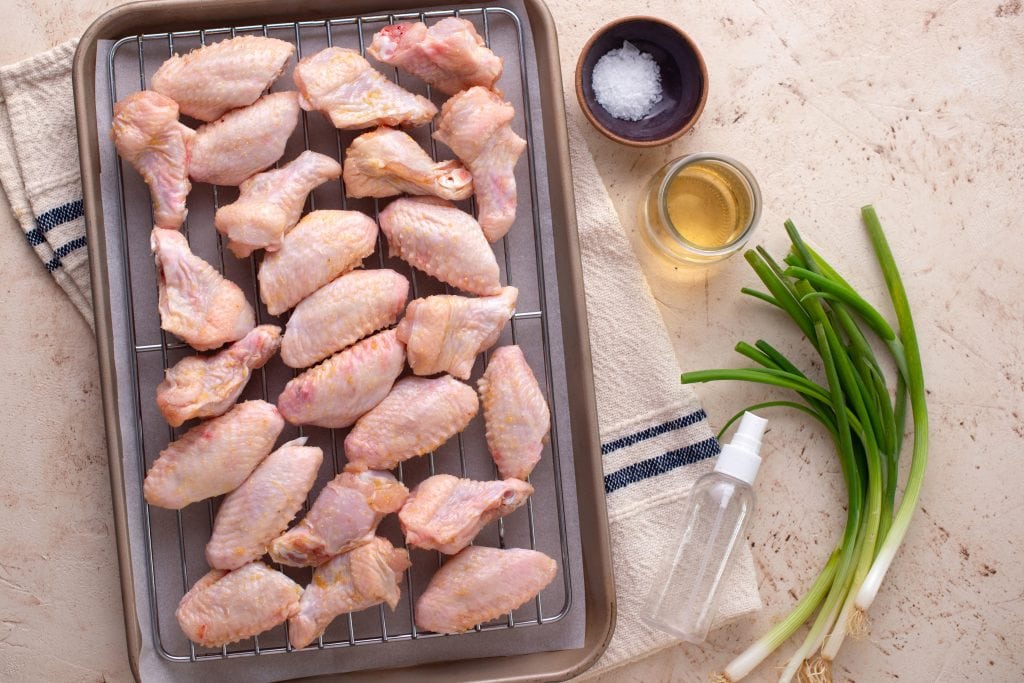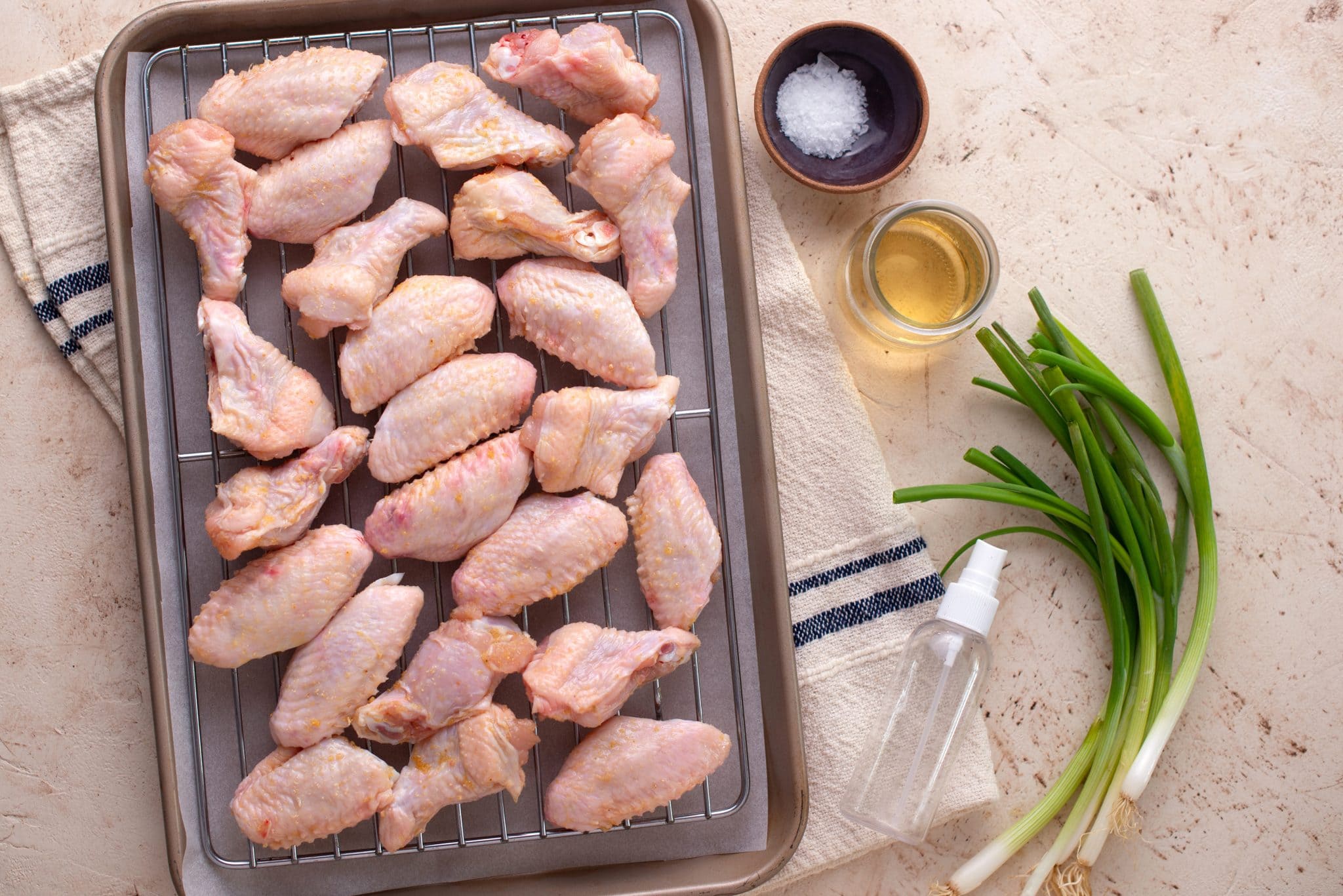 If you're making these in the oven, grab a large baking wire rack previously lined with a baking sheet (easier for clean up later on). Stack your chicken wings close together in a single layer, but make sure they're not overcrowded or overlapping.
STEP 5 – IT'S VINEGAR AND SALT TIME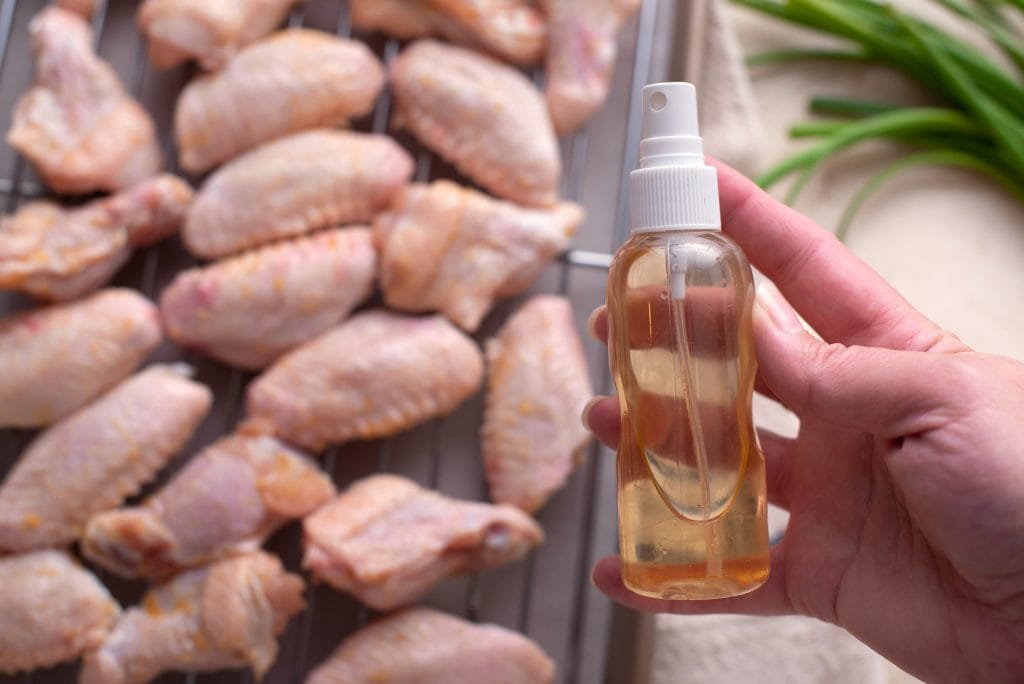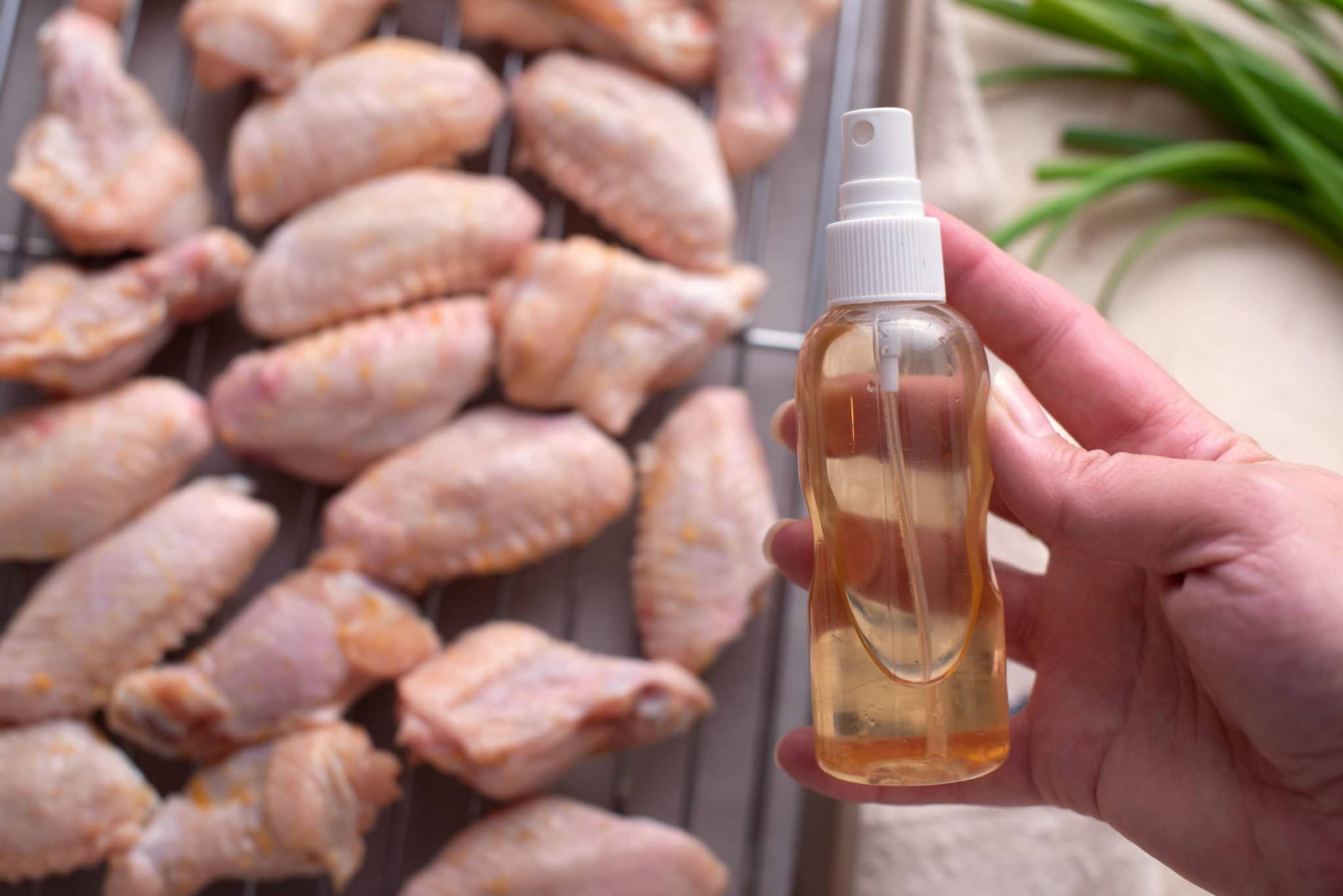 Take out a small spray bottle. You can get these at your local pharmacy or even a 99 cents store. Mix together vinegar and salt right in the spray bottle and spritz your wings before going into the oven.
You want the entire vinegar mixture to dissolve, without any remaining salt granules. Otherwise, the salt won't pass through the spray bottle nozzle.
STEP 6 – BAKE & SERVE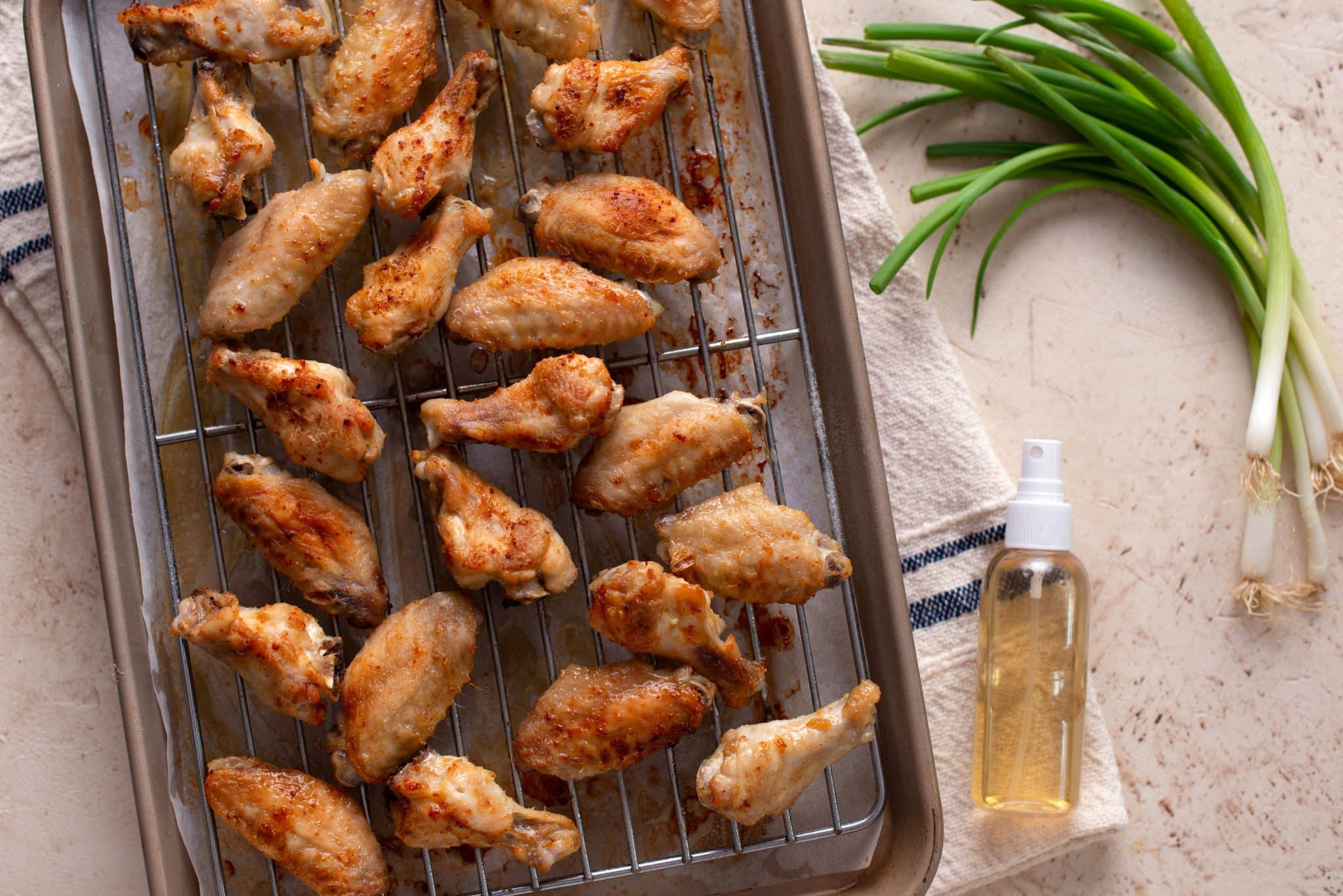 Bake your salt and vinegar wings for about an hour at 400°F. Turn them every 15 minutes and again, spray generously with salt and vinegar. In conclusion, you should turn them 4 times and spray all over each time.
Serve with a dipping sauce and garnish with parsley or chopped green onions. I honestly cannot recommend using a blue cheese dressing enough here, the vinegar and blue cheese make a wonderful combo full of flavor.
FAQ
Can I use apple cider vinegar?
You sure can! Using apple cider vinegar will give your chicken wings a milder taste than regular distilled white vinegar. You can also use malt vinegar or even powdered vinegar seasoning, but make sure it doesn't contain any artificial ingredients or additives.
I know there are several kinds of vinegar and while most of them are fine even if they have different flavors, don't use balsamic vinegar – it's high in carbs and will destroy the taste.
How do I know when my chicken wings are cooked through?
I'm more of an anxious person when it comes to making sure I end up with cooked wings so I just take one out, cut it and see if the juices are running clear.
The best method is to check the internal temperature of your salt and vinegar chicken wings with a thermometer (at the thickest part of the wing!) and make sure it has reached 165 degrees.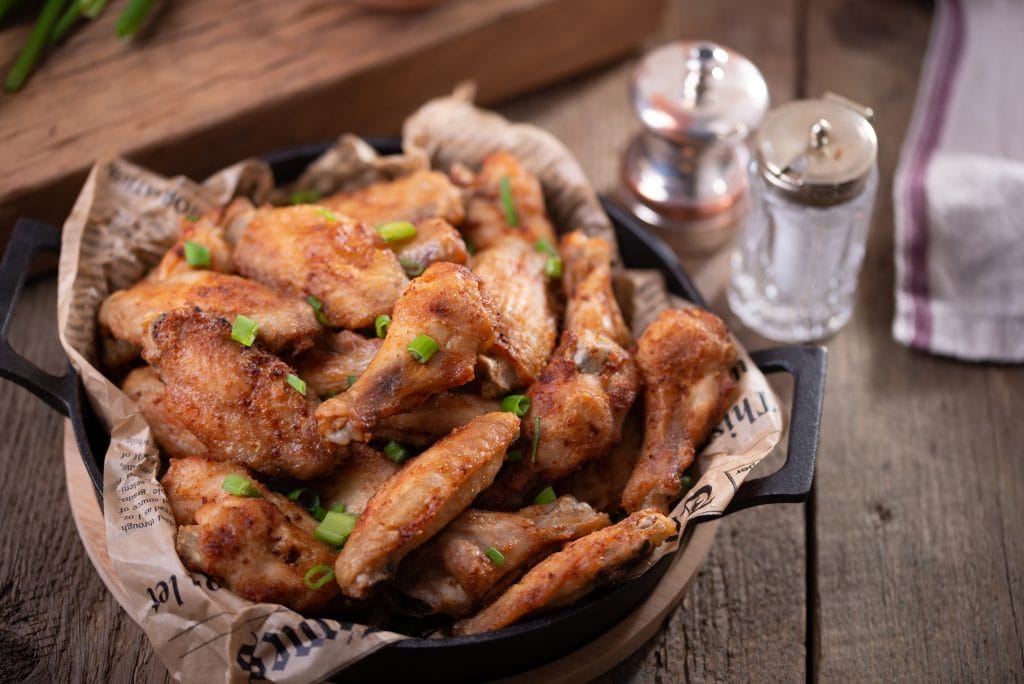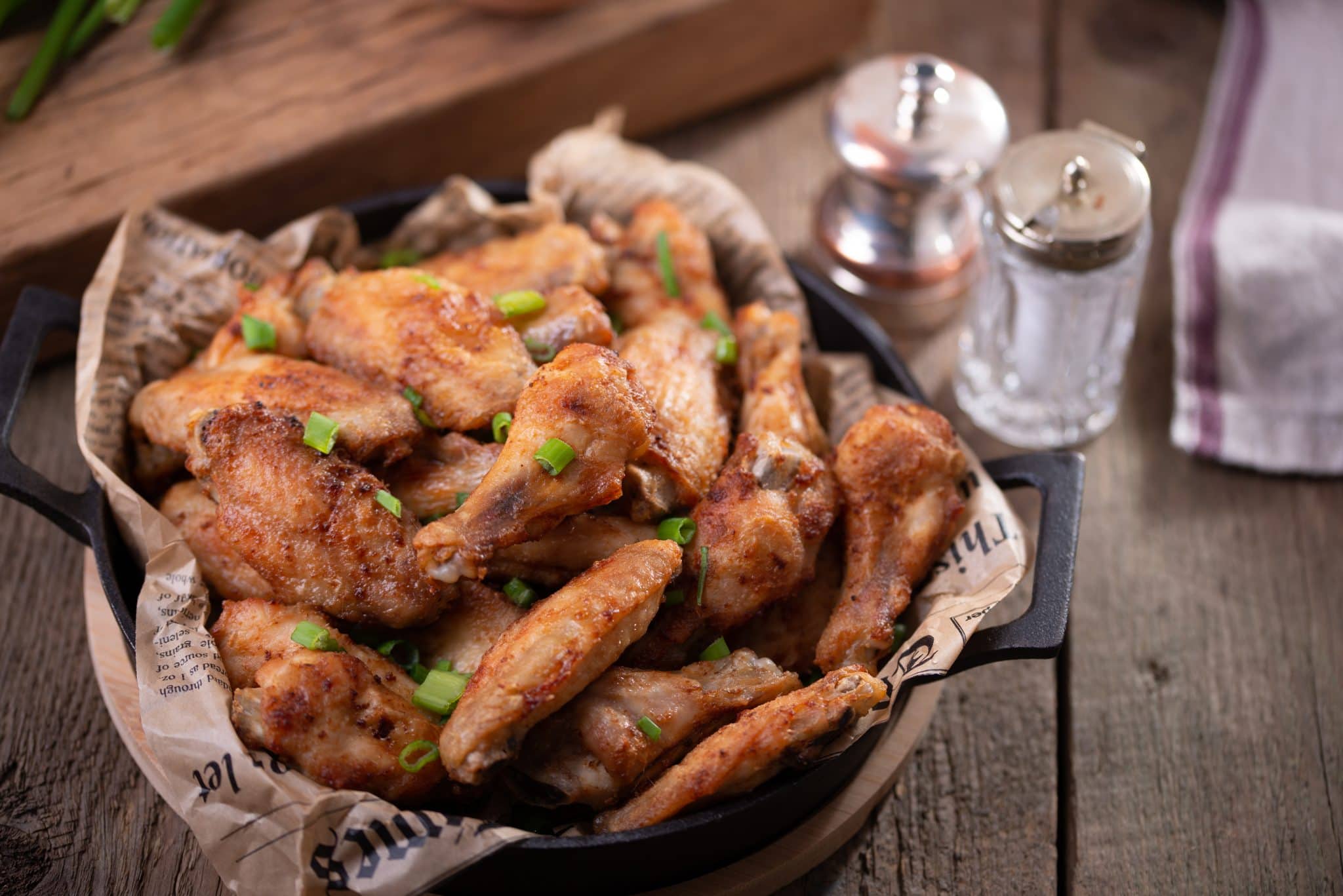 Can I make these wings in an air fryer?
Absolutely! Preheat your air fryer to 400 degrees, place wings in the air fryer basket and cook for about 10 minutes. It's an awesome, time-saving and crispy chicken wings alternative to oven baked wings.
There are other ways to make these salt and vinegar chicken wings other than air frying – you can always deep fry them in hot oil.
However, keep in mind this is a calorie dense way of making food and may stall your weight loss goals if you're on keto to shed pounds and get rid of all the excess weight.
You may also like our guide to the best air fryers!
What can I eat these salt and vinegar wings with?
We usually eat them with a blue cheese dressing, but we've had them with ranch and it was also really tasty. I've seen people eat it with a vinegar sauce, however, for me that's a bit too much of the pungent taste.
More easy chicken recipes
Still in the mood for easy chicken recipes, but not sure if salt and vinegar chicken wings will hit the spot? Check out these low carb, keto friendly recipes our readers love!
Keto Chicken Parmesan – rich and flavorful, these Italian-inspired dish will take your taste buds straight to Europe! With only 35 minutes of total cooking and prep time, you can enjoy these golden brown chicken breasts even during your busiest weeknights.
Keto Butter Chicken – simple, yet authentic in flavor, you can make this dinner dish in under 30 minutes total! Just thinking of all the turmeric and ginger makes me salivate (plus, both are anti-inflammatory). One serving? Only 385 calories and 6g of net carbs.
Keto Cashew Chicken – since we're doing a trip around the world here with all the flavors, maybe you're in the mood for an Asian-inspired dish? Make it in only 25 minutes and serve over simple cauliflower rice. Delicious!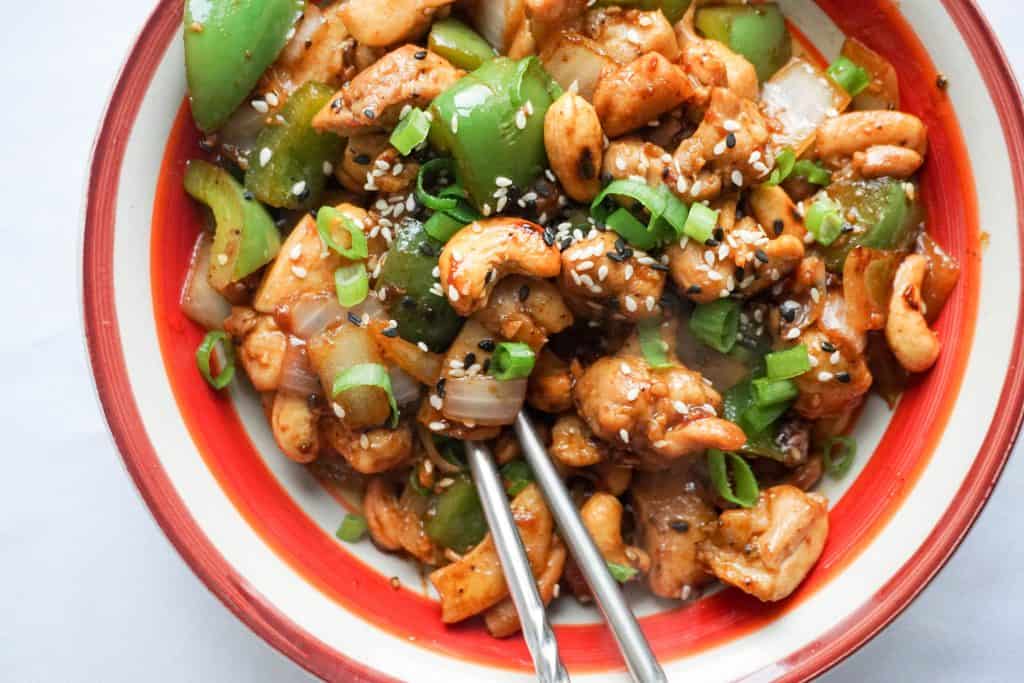 Ready for the best salt and vinegar chicken wings?
Let us know in the comments if you loved it! Also, we're always on the lookout for new dips and dressings, so if you've tried something you loved with this crispy baked chicken wings recipe, don't forget to share!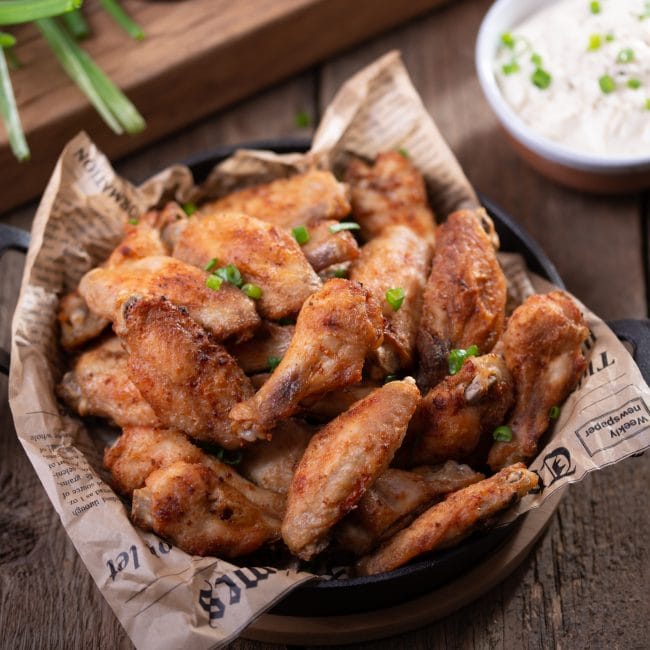 Salt and Vinegar Wings Recipe
This salt and vinegar chicken wing recipe is so delicious, tangy and flavorful at the same time. You'll make it over and over again!
Total Time 1 hour 10 minutes
Servings 4 servings
Calories per serving 335kcal
Prep Time: 10 minutes
Cook Time: 1 hour
Instructions:
Divide your chicken wings, if not already divided.

Place your wings in a large bowl with olive oil.

Season the wings with a mixture of garlic powder, onion powder and salt. Rub the oil and seasoning to ensure an even coating for each piece.

Place the wings on a rack over a baking sheet.

Mix your vinegar and salt together in a small spray bottle, ready for spritzing your wings every 10-15 minutes.

Bake for about 1 hour at 400 °F / 204 °C (Turning every 15 minutes and spraying with vinegar and salt mixture)

Serve and garnish with fresh parsley or chopped Green onions.
Nutrition Facts
Salt and Vinegar Wings Recipe
Amount Per Serving
Calories 335 Calories from Fat 225
% Daily Value*
Fat 25g38%
Saturated Fat 7g35%
Trans Fat 0.3g
Polyunsaturated Fat 5g
Monounsaturated Fat 11g
Cholesterol 104mg35%
Sodium 1262mg53%
Potassium 228mg7%
Carbohydrates 1g0%
Fiber 0.1g0%
Sugar 0.1g0%
Protein 25g50%
Vitamin A 198IU4%
Vitamin C 1mg1%
Calcium 19mg2%
Iron 1mg6%
* Percent Daily Values are based on a 2000 calorie diet.